Throughout your time on the course we encourage you to stay in close contact with us and our teaching staff. We are always available to talk you through how your child is performing, and how to help them improve.
Monthly mock test
Our monthly mock test is key to this process, as it allows you and our teaching staff to see where your child is doing well and where they can improve. Children take two tests each month: one for Maths and one for English. These tests are taken under strict exam conditions and the results are recorded on a table, allowing you to compare your child against the rest of the cohort.
Depending on whether a test is written or multiple-choice, we may either mark it by hand or mark it using a scanner and marking software similar to that used in real 11+ exams. All of our tests are handed back to you after marking along with the relevant answer sheets, so you can better understand the marker's decision making process and see how your child might have improved their answers.
Detailed performance analysis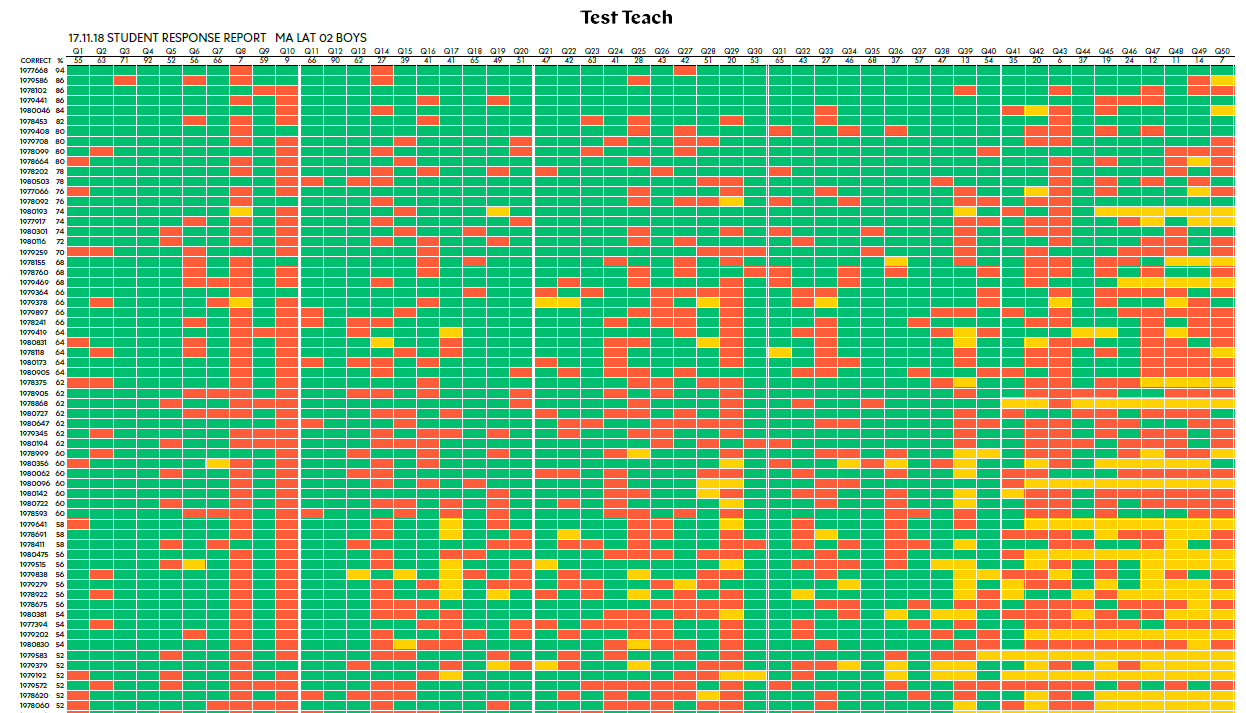 Once the tests have been marked, we compile the data for analysis. Each month we give you two printed A3 charts like the one shown above, one for Maths and one for English. We keep the data separate for boys and girls, as most of the grammar schools we target only take either girls or boys in Year 7, not both.
This is important as it allows you to assess the relative strengths of your child in each subject, by only comparing their performance against those they will compete against in the real exam. For example, historical data suggests boys score higher than girls in Maths at this age, whilst girls score higher in English. Therefore, it may be misleading to compare a boy's English score to the cohort of girls. His score may seem weaker than it actually is, because he is being compared with students he will not be competing against in the real exam.
Compare your child with other students anonymously
In our reports, each child is identified with an ID number which is shown in the first column. The higher your child has scored, the higher their name is in the column.
Your child's percentage score is shown next to their ID number, as well as their response for each question. Correct answers are shown in green, incorrect answers in red, and blank responses are marked yellow.
Target questions at your child's level
The row at the top of the chart shows what percentage of children got each question correct; the easier the question, the higher this number will be.
Children can use this to identify the easiest questions that they got wrong. This is the best starting point for children looking to improve, as they can tackle questions at their level first. Using our online learning platform, we ask students to make sure they watch the videos for the ten easiest questions they got wrong each month.
See if your child struggles with timing
Questions left unanswered are shown in yellow. If your child's row ends abruptly with yellow, your child ran out of time and failed to answer the questions at the end of the test.
By doing monthly tests, children acclimatise to the difficult work and exam conditions, and learn the pace at which they should be working. By the end of the year, we aim to eliminate all yellow from the chart.